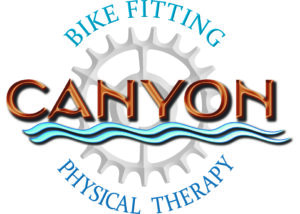 Your bike fit at Canyon Physical Therapy will be performed by a Physical Therapist with specialty training for the cyclist population.  Physical Therapists are experts when it comes to the biomechanics of tissue (bone, joint, muscle, ligament, nerve, etc.), the biomechanics of injury, and the ways to treat and prevent those injuries.
A proper bike fit by a trained Physical Therapist can also be utilized as a preventative approach, prior to the development of symptoms that may hinder your ability to enjoy your ride.  Alternatively, a bike fit performed by a Physical Therapist also comes into play when you begin to have pain, discomfort, or dysfunction on the bike.
The bike fit will involve an initial interview which will address your history as a cyclist, your cycling goals, and any injuries you've had that can affect your comfort on the bicycle.  From there we will go into the "off the bike" physical assessment which will involve looking at flexibility, strength, movement inefficiencies, and other risk factors for injury.  Next, the bike will be assessed without the rider to look at the bike's current setup, types of components installed on the bike, and any potential equipment misalignments or failures.  Once this has been completed the "on the bike" assessment will be performed starting with setting foot position (cleat adjustment), lower extremity alignment, seat position, trunk, shoulder, hand, and wrist positioning.
Once the assessment is complete recommendations for appropriate fit and equipment will be provided.  As needed you will be provided additional exercise and technique training to further address your physical exam findings, history, and goals.
Goals of Bike Fit:
Improve overall rider comfort

Most cycling discomfort is easily eliminated through a proper bike fit.

Help prevent cycling induced repetitive stress injuries
Reduce or eliminate back, knee, foot, neck and wrist pain
Reduce or eliminate saddle discomfort and genital numbness
Reduce or eliminate numbness in the hands and fingers
Reduce rider fatigue and improve performance

By putting the rider's muscles and joints in the most optimal position for efficiency and effectiveness the cyclist's overall performance will be improved
A Bike Fit will typically take 1-1.5 hours.
What to bring:
Your completed intake and consent/waiver form.
A clean bicycle in good working order.
Proper air pressure in tires.
Wear your regular cycling clothing (padded shorts, chamois…).
Bring your cycling shoes (cleats/screws free of debris).
Bring your cycling gloves if used when riding.
Please contact us for pricing at (928) 772-9797. Reduced pricing for youth bike fits and for multiple bike fits are available.